THOUGHTS FOR THE MONTH: MARCH- 2023:
Like Noah, who was with God for forty days, while the great flood engulfed the earth; like Moses who listened to God for forty days upon Mt. Sinai; like Jesus who was led into desert to fast for forty days; Lent is a time to repent and remove our carnal selves; to don the mantle of the Spirit and to listen to the sweet murmur within, speaking to our pure hearts!
"But the hour is coming, and is now here, when true worshippers will worship the Father in spirit and truth, for the Father seeks such as these to worship him. God is spirit and those who worship him must worship in spirit and truth." John 4: 23-24:
"Set yourself then, as a good and faithful servant of Christ, bravely to bear the cross of your Lord, who was crucified for the love of you." Thomas A Kempis: imitation of Christ: Book II: Ch 11: 10.
SAINTS/ SAGES/ EVENTS: MARCH- 2023:
March 01. St. David: (500-589): He was a Welsh bishop of Menevia during the 6th century. He became renowned as a teacher and preacher, founding monastic settlements and churches in Wales, Dumnonia, and Brittany. St David's Cathedral stands on the site of the monastery he founded in the Glyn Rhosyn valley of Pembrokeshire. He rose to a bishopric and presided over two synods against Pelagianism.
March 02. St. Agnes of Prague: (1211-1282): Agnes was the daughter of King Ottokar of Bohemia. She opted for a life of charity, mortification of the flesh and piety over a life of luxury and comfort. She was honored in 2011, the 800th anniversary of her birth, as the Saint of the Overthrow of Communism, with a year dedicated to her by Catholics in the Czech Republic.
Today is also the feast day of St. Angela of the Cross: (1846-1932): She was a Spanish religious sister and the founder of the Sisters of the Company of the Cross; a Roman Catholic religious institute dedicated to helping the abandoned poor and the ill with no one to care for them. She was canonized in 2003 by Pope John Paul II.
March 03. St. Catherine Drexel: (1858-1955): She was an American heiress, philanthropist, religious sister, educator and founder of Sisters of Blessed Sacrament. Because of her lifelong dedication to her faith and her selfless service to the oppressed, Pope John Paul II canonized her on October 1, 2000 to become only the second recognized American-born saint.
March 04. St. Casmir of Poland: (1661-1484): He was a crown prince of the Kingdom of Poland and of the Grand Duchy of Lithuania who became a patron saint of Lithuania, Poland, and the young.
March 05. St. John Joseph of the Cross: (1654-1739): He is the patron of Ischia, the place where he was born. He was beatified in 1789, and canonized in 1839 by Pope Gregory XVI.
March 06.. St. Colette: (1386-1447): She was a French abbess and the founder of the Colettine Poor Clares, a reform branch of the Order of Saint Clare, better known as the Poor Clare's. Due to a number of miraculous events claimed during her life, she is venerated as the patron saint of women seeking to conceive, expectant mothers and sick children.
March 07. St. Paul the Simple: (Died in 339): He was a hermit and disciple of St. Anthony. St John, the Abbot of Sinai wrote "Paul the Simple was a clear example for us, for he was the rule and type of blessed simplicity."
March 08. St. John of God: (1495-1550): was a Portuguese born soldier turned health-care worker in Spain, whose followers later formed the Brothers Hospitallers of St. John of God; a worldwide Catholic religious institute, dedicated to the care of the poor sick and those suffering from mental disorders. He has been declared a saint by the Catholic Church, and is considered one of Spain's leading religious figures.
March 09. St. Gregory of Nyssa: (335-394): He was a younger sibling in a family that gave the church many years of service and at least five saints. Before entering the monastery of his brother, Basil the Great, Gregory was a rhetorician. He was an erudite theologian who made significant contributions to the doctrine of the Trinity and the Nicene Creed. Gregory's philosophical writings were influenced by Origen. Since the mid-twentieth century, there has been a significant increase in interest in Gregory's works from the academic community, particularly involving universal salvation, which has resulted in challenges to many traditional interpretations of his theology.
March 10. St. John Ogilvie: (1579-1615): He was a Scottish Roman Catholic Jesuit martyr. On 10 March 1615, aged thirty-six years, he was paraded through the streets of Glasgow and hanged and disemboweled, according to the penalty of the time, at Glasgow Cross. As a martyr of the Reformation and the Counter-Reformation he was beatified in 1929 and canonized in 1976. He is the only post-Reformation saint from Scotland.
March 11. St. Constantine: Constantine was king of Cornwall. Unreliable tradition has him married to the daughter of the king of Brittany who on her death ceded his throne to his son and became a monk at St. Mochuda monastery at Rahan, Ireland. He went as a missionary to Scotland under St. Columba and then St. Kentigern, preached in Galloway, and became Abbot of a monastery at Govan. In old age, on his way to Kintyre, he was attacked by pirates who cut off his right arm, and he bled to death. He is regarded as Scotland's first martyr.
March 12. St. Fina: (1238-1253): She was an Italian Christian girl who is venerated in the Tuscan town of San Gimignano. In 1248 Fina's life was changed by a serious illness, which began, progressively, to paralyse her (probably a form of tuberculosis like osteomyelitis). During her illness, she lost her father and later her mother died after a fall. In spite of her misfortune and poverty she thanked God and expressed a desire that her soul might separate from the body in order to meet Jesus Christ. Saint Gregory the Great allegedly appeared in Fina's room and predicted that she would die on the 12th of March. Fina died on the predicted date. She was only 15 years old.
March 13. Bl. Agnello of Pisa: (1195-1233): He was an Italian Friar Minor and founder of the Franciscan Order in England. He is the founder of the University of Oxford, Eccleston wrote that after Agnellus' death; his body was immaculately maintained and perfectly preserved. In honor of his great influence in the establishment of the university and his understanding of the importance of learning, Agnello's body is held at Oxford in veneration.
March 14. St. Matilda: (895-968): She was the wife of King Henry I of Germany, the first ruler of the Saxon Ottonian (or Liudolfing) dynasty, thereby Duchess consort of Saxony from 912 and German Queen from 919 until 936. Their eldest son Otto succeeded his father as German King and was crowned Holy Roman Emperor in 962.
March 15. St. Louise de Marillac: (1591-1660): She was the co-founder, with St. Vincent de Paul, of the Daughters of Charity. She is venerated as a saint by the Roman Catholic Church.
March 16. St. Aban: (Died in 620): An Irish prince, Abban was the son of King Cormac of Leinster. He is listed as the nephew of St. Ibar. Abban founded many churches in the old district of Ui Cennselaigh, in modern County Wexford and Ferns. His main monastery is Magheranoidhe, in Adamstown, Ireland.
March 17. Joseph of Arimathea: (Died in 1st century): He was, according to all four Gospels, the man who donated his own prepared tomb for the burial of Jesus after Jesus' crucifixion. He is mentioned in all four canonical Gospels. According to Mark 15:43, he was an "honorable counselor (bouleutēs), meaning a member of the Jewish Sanhedrin, who was waiting for the kingdom of God". In Matthew 27:57, he is described as a rich man and a disciple of Jesus. In John 19:38, we find out that Joseph was secretly a disciple of Jesus: as soon as he heard the news of Jesus' death, he "went in boldly unto Pilate, and craved for the body of Jesus".
Today is also the Feast day of St. Patrick of Ireland: (387-467): Known as the "Apostle of Ireland", he is the primary patron saint of the island along with Saints Brigit and Columba. He is one of the World's most popular saints; along with St. Nicholas, St. Blasé' and St. Valentine. Saint Patrick's Day is observed on 17 March, the date of his death. It is celebrated inside and outside Ireland as a religious and cultural holiday. In the dioceses of Ireland, it is both a solemnity and a holy day of obligation; it is also a celebration of Ireland itself.
March 18. St. Cyril of Jerusalem: (315-386): He was a distinguished theologian of the early Church. He is venerated as a saint by the Roman Catholic Church, the Eastern Orthodox Church, and the Anglican Communion. In 1883, Cyril was declared a Doctor of the Church by Pope Leo XIII. He is highly respected in Eastern and Western Churches.
March 19. St. Joseph: Together with the Blessed Virgin Mary and the Child Jesus, Joseph is one of the three members of the Holy Family; since he only appears in the birth narratives of the Gospels, Jesus is depicted as a child when with him. Pope Pius IX proclaimed Saint Joseph the patron of the Universal Church in 1870, the unofficial patron against doubt and hesitation, as well as the patron saint of fighting communism, and of a happy death. Saint Joseph is the patron saint of a number of cities, regions and countries, among them the Americas, Canada, China, Mexico, Korea, Austria, Belgium, Peru, the Philippines and Vietnam, as well as of families, fathers, expectant mothers (pregnant women), travelers, immigrants, house sellers and buyers, craftsmen, engineers, and working people in general.
March 20. St. Alexandra & Companions: (Martyred in 300): Christian women, Alexandra, Claudia, Euphrasia, Matrona, Juliana, Euphemia, Theodosia, Derphuta, and her sister, were martyred in Amisus in Paphlagonia. The women were burned to death in the persecution of Emperor Diocletian.
March 21. St. Enda of Aran: (Died in 530): Enda was a warrior-king of Oriel in Ulster, converted by his sister, Saint Fanchea, an abbess. About 484 he established the first Irish monastery at Killeaney on Aran Mor. St. Enda is described as the "patriarch of Irish monasticism". Most of the great Irish saints had some connection with Aran.
March 22. St. Lea of Rome: (Died in 384): St. Leah of Rome is known only through the testimony of her beloved friend, the learned Saint Jerome. A noblewoman of Rome, born into wealth and privilege, she was a contemporary of Jerome. However, soon after her marriage she was widowed and left very sound financially. Instead of retiring as a wealthy widow, however, she joined a convent of consecrated virgins in the city—shedding all the money and social standing she possessed.
March 23. St. Toribio Alfonso de Mogrovejo: (1538-1606): Bishop and defender of the rights of the native Indians in Peru. He founded schools, churches, hospitals, and the first seminary in the New World. To assist his pastoral work among the Indians, he also mastered several Indian dialects. He was canonized in 1726.
March 24. St. Aldemar: (Died in 1080): Abbot and miracle worker, called "the Wise." Born in Capua, Italy, he became a monk in Monte Cassino and was called to the attention of a Princess Aloara of the region. When she built a new convent in Capua, Alder became the director of the religious in the established house. He performed many miracles in this capacity. Aldemar was reassigned by his abbot to Monte Cassino, a move that angered the princess. As a result, Aldemar went to Boiana, Italy, where a companion involved in the dispute tried to kill him. Aldemar fled into the region of Bocchignano, Abruzzi, where he founded several more religious houses.
March 25 St. Dismas: (Died in 33): The Penitent thief, also known as the Thief on the Cross or the Good Thief, is an unnamed person mentioned in the Gospel of Luke who was crucified alongside Jesus and asked Jesus to remember him in his kingdom, unlike his companion the impenitent thief. He is traditionally referred to as "St. Dismas".
March 26. St. Margret Clitherow: (1556-1586): She is an English saint and martyr of the Roman Catholic Church and Pope Paul VI called her, "the Pearl of York", when he canonized her in 1970, along with thirty nine other martyrs in England and Wales, who were victims of religious persecution during the reign of Queen Elizabeth I.
March 27. St. Rupert of Salzburg: (660-710): He is a saint in the Roman Catholic and Eastern Orthodox churches and a founder of the Austrian city of Salzburg. He was a contemporary of Childebert III, king of the Franks.
March 28. St. Venturino of Bergamo: (1304-1346): He was an Italian Dominican preacher and a zealous crusader to recapture the Holy Land from Muslim domination.
March 29. St. Berthold: (Died in 1195): Considered by some historians to be the founder of the Carmelite Order. He was born in Limoges, France, and proved a brilliant student at the University of Paris. Ordained a priest, Berthold joined his brother, Aymeric, the Latin patriarch of Antioch, in Turkey, on the Crusades. On Mount Carmel, he found a group of hermits, joined them, and established a rule. Aymeric appointed Berthold, the first Carmelite Superior general. Berthold tried to reform the Christian soldiers in the region, having had a vision of Christ, and headed the Carmelites for forty-five years.
March 30. St. Peter Regulatus: (1390-1456): He was a Franciscan (friar minor) and reformer. He was born at Valladolid, Spain. In 1415, he became superior of the convent at Aguilera and, on the death of Pedro de Villacreces (1422), the convent at Tribulos (del Abroyo). He observed nine Lents, fasting on bread and water, and was endowed with the gift of miracles and prophecy and of every virtue. He was beatified by Pope Innocent XI on 11 March, 1684, and canonized by Pope Benedict XIV on 29 June, 1746.
March 31. St. Benjamin of Persia: (Martyred in 424): St. Benjamin was executed during a period of persecution of Christians that lasted forty years and through the reign of two Persian kings; Isdegerd I and Varanes V, who carried on the persecution with such great fury, that Christians were submitted to the cruelest tortures. Benjamin was imprisoned a year for his Christian faith, and later released with the condition that he abandon preaching or speaking of his religion. His release was obtained by the Eastern Roman Emperor Theodosius II through an ambassador. However, St. Benjamin declared that it was his duty to preach Christ and that he could not be silent. As a consequence, St. Benjamin was tortured mercilessly until his death in the year 424, specifically, "sharpened reeds [were] stuck under the nails of his fingers and toes.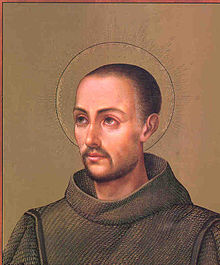 St.John of God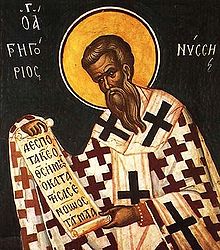 St. Gregory of Nyssa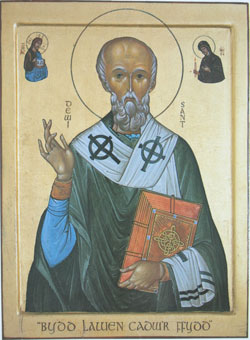 St. Davd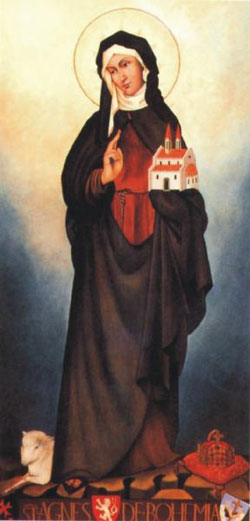 St. Agnes of Prague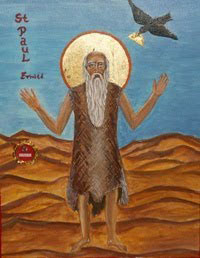 St. Paul the Simple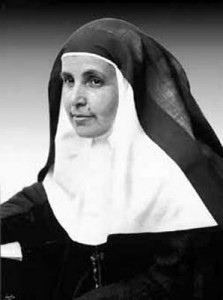 St. Angelo of the Cross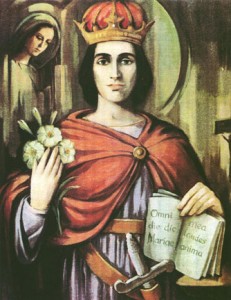 St. Cassimir of Poland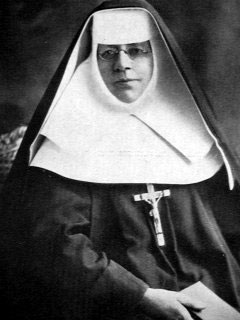 St. Catherine Drexel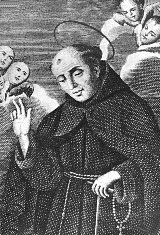 St. John Joseph of the Cross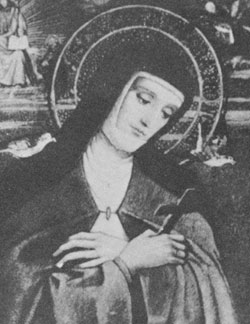 St. Colette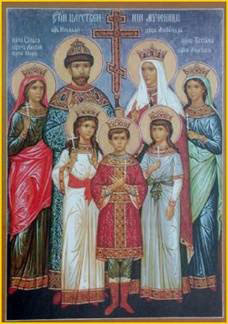 St. Alexandra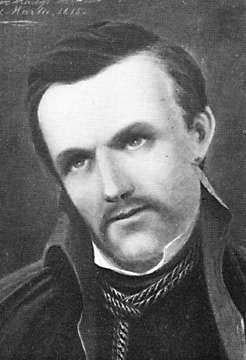 St. John Ogilvie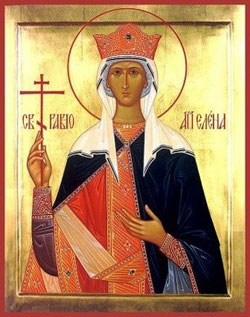 St. Constantine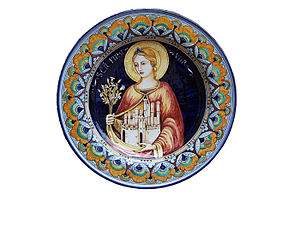 St. Fina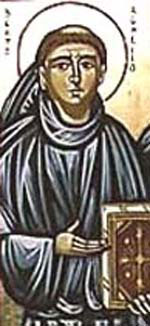 Bl. Agnelo of Pisa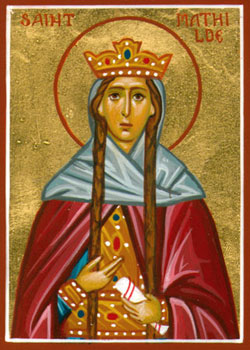 St. Matilda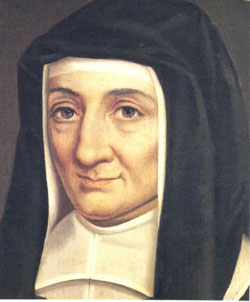 St. Louise de Marilac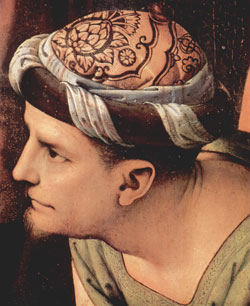 St. Joseph of Arimathea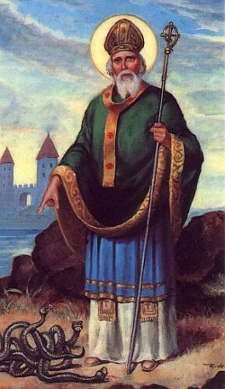 St. Patrick of Ireland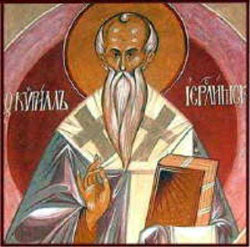 St. Cyril of Jerusalem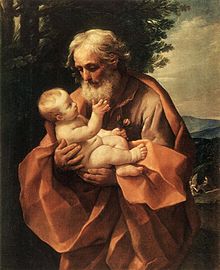 St. Joseph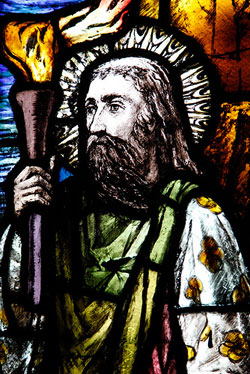 St. Enda of Aran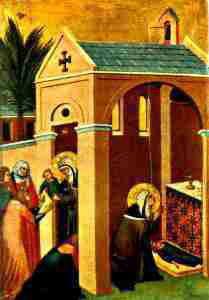 St. Lea of Rome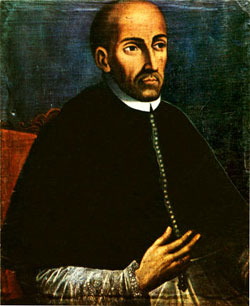 St. Toribio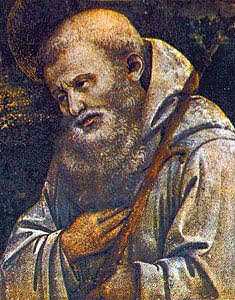 St. Aldemar

St. Dismas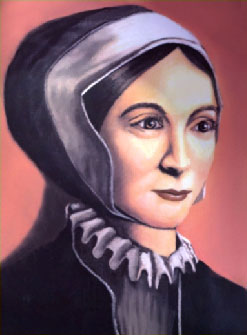 St. Margret Clithrow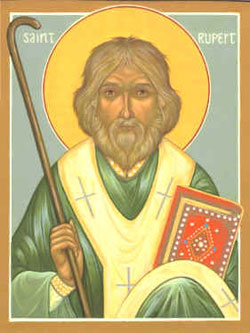 St. Rupert of Salzburg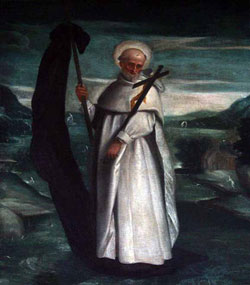 St. Venturino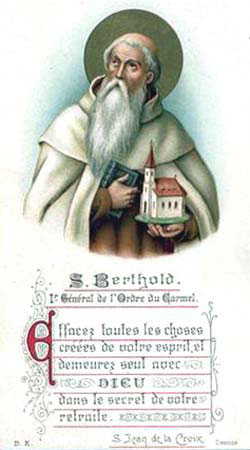 St. Berthold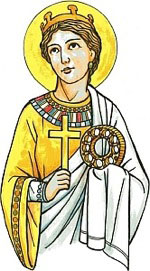 St. Peter Regulatus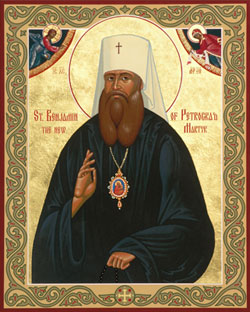 St. Benjamin of Persia